For type 2 diabetes remission
NHS Type 2 Diabetes Path to Remission Programme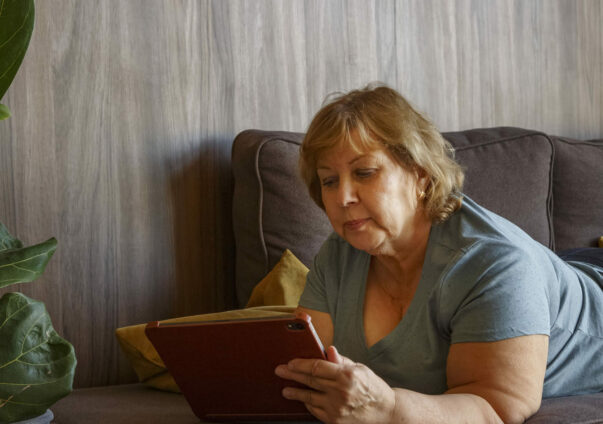 About the NHS Type 2 Diabetes Path to Remission programme
Oviva has partnered with the NHS to deliver a programme for people who are overweight and living with type 2 diabetes. Formerly called the NHS Low Calorie Diet, this 12 month programme will support you to lose weight using a low calorie diet, improve your blood glucose levels, reduce your medications, and potentially put your type 2 diabetes into remission.
Who can join?
People aged between 18 and 65 years old
People who are not pregnant
Confirmed diagnosis of type 2 diabetes within the last 6 years
Those who are motivated to change their lifestyle and can commit to the 12 month programme
Registered in an area where Oviva is available
Watch our video to discover what your journey would look like 
People on average lose 11.4kg
Reduce or stop your diabetes medications
People on average improve their blood glucose levels by 11.9mmol/mol
How we support you
What happens?
On the Oviva Type 2 Diabetes Path to Remission programme you'll be matched with a coach who will provide expert one-to-one healthcare, with tailored support through every stage of the programme. You will have the option to chose how the programme is delivered to best suit your needs.
Getting started
First, we will discuss your previous medical history. We'll ask questions about your eating habits, your everyday life and your environment to understand more about who you are. Together we'll set realistic goals and a plan to achieve them over the course of the programme. Our mission is to support you to create new healthy habits for both your body and mind and sustain the weight you lose.
Your questions answered
What happens on the Type 2 Diabetes Path to Remission programme and why is it needed?
You will be offered total diet replacement products including soups and shakes consisting of up to 900 calories a day for up to 12 weeks. During this time you will be expected to replace all normal meals with these products. After this 12 week period you will receive help to re-introduce food in a healthy and sustainable way. You will receive support from your coach throughout the rest of the programme to embed new healthy habits and maintain your weight. The low calorie diet is only needed for the first 12 weeks and is recommended as it offers the highest chance of achieving significant weight loss over a short period, to improve your diabetes control and and potentially putting your diabetes into remission.
What is diabetes remission?
Putting your diabetes into remission means that, although you have a diagnosis of diabetes, your blood glucose levels have for the moment returned to a healthy level. Remission from your type 2 diabetes is achieved if you have lost weight, a blood glucose reading below the diagnosis levels for diabetes and stopped taking all blood glucose lowering (diabetes) medications. Not everyone will achieve remission but the programme has other benefits too, such as the opportunity to lose weight in a controlled way, reducing your diabetes medications, and a chance to learn new dietary approaches and behaviours.
How can I join the programme?
The NHS Type 2 Diabetes Path to Remission programme is expanding across England during 2023. Oviva is providing the service in the following areas:
Black Country and West Birmingham
Frimley
Humber and North Yorkshire
Mid and South Essex
North Central London
North East London
South West London
Speak to your GP to see if you are eligible for a referral on the NHS Type 2 Diabetes Path to Remission programme or find out more by visiting the NHS website.