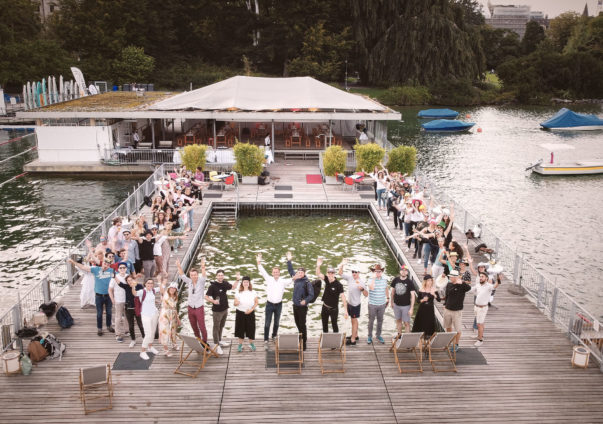 Our company
To build a healthier future for all, our mission is to provide the most accessible and effective care to people living with weight-related conditions. 
Why? Because everyone deserves their healthiest self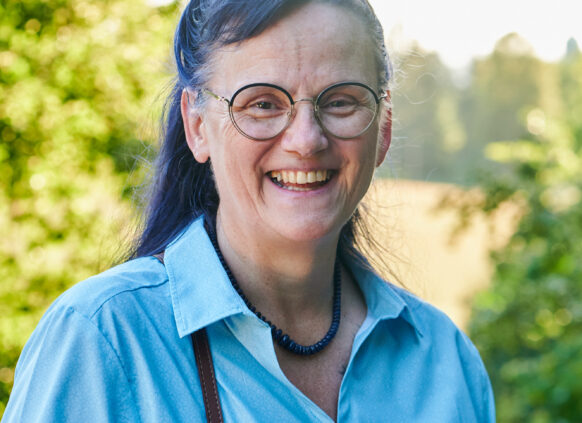 Meet Renata
The best way to make our vision more tangible is to tell you about one of our most active patients, Renata. She started with us in 2017, when she became aware of high cholesterol in a routine checkup, after living with obesity and weight-related knee pain for years. Her results are nothing short of incredible. She lost 17kg, kept it off, normalised her cholesterol levels, and now loves taking long walks with her dog, Benedikt.
2014
Oviva is founded by Kai Eberhardt, Manuel Baumann and Mark Jenkins.
We employ the first dietitian in Switzerland.
The first person is treated, supported by our app.
2015
We open our first office outside Swiss borders: in London, United Kingdom.
People begin to notice us: we sign our first contracts with a doctor and a health insurance provider in Switzerland, and with the NHS in the United Kingdom.
2016
We complete our first round of funding and receive $800,000.
Oviva already employs more than 50 people.
We also open an office in Potsdam, Germany – our third site.
By the end of this year, we're already working with roughly 100 doctors and clinics across Europe.
2017
Three's not enough – so we open our fourth office, this time in Paris, France.
To continue to drive our business forward, we require liquid assets: we complete the Series A financing round and receive $11 million.
2018
We already have 150 employees, treat roughly 50,000 people and work with more than 1000 doctors.
We win first prize at the Forum of Managed Care (FMC) and become recognised as a "Model of Good Practice" by the Swiss Federal Office of Public Health.
2020
We complete another financing round (Series B) at the start of this year and receive $21 million.
Our employees now total 300, roughly 100,000 people have received advice or are still receiving treatment, and we work with more than 5,000 doctors.
In Germany, we reach a milestone and begin our first collaboration with a German health insurer.
2021
We sign our first partnership agreement with a French health insurer.
In September, we complete the Series C financing round and receive $80 million; one of the largest rounds in the European digital health sector.
Our first digital health application (or DiGA), Oviva Direkt for obesity, is included in the DiGA directory of the German Federal Institute for Drugs and Medical Devices (BfArM, Bundesinstitut für Arzneimittel und Medizinprodukte) in October.
We end the year with 600 employees and over 200,000 patients treated. What a year!
2022
Scaling of Oviva's digital therapeutic product, Oviva Direkt – a German DiGA.
Winner of the 2022 HSJ Partnerships Award for the 'Most impactful project addressing health inequalities' for our Type 2 diabetes structured education programme delivered in partnership with NHS North East London. 
Expansion of our range of therapies in Switzerland: Our patients can now also take advantage of our app-guided psychotherapy to improve their health in the long term.
By the end of the year, we had treated more than 300k patients and further expanded our partnerships with doctors, clinics and health insurers throughout Europe.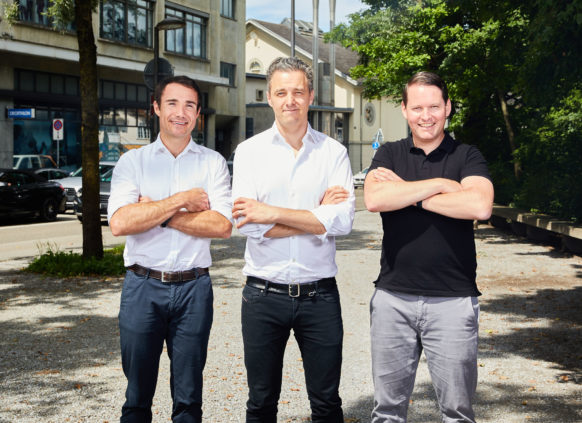 With Oviva, we want to improve the health and happiness of as many people as possible.
Oviva co-founders Kai Eberhardt (CEO), Manuel Baumann (CTO) and Mark Jenkins (Medical Director)
Be a part of our success story
If you like contributing ideas, taking on responsibility and making dietary advice easier to access, apply now!
Switzerland
Zurich
Sihlstrasse 37
8001 Zurich
Altendorf
Zurcherstrasse 64
8852 Altendorf
United Kingdom
London
Runway East
20 St Thomas Street
London, SE1 9RS
Leeds
Office 2.08-2.09
The Leeming Building
Ludgate Hill
Leeds, LS2 7HZ
Germany
Berlin
Alexanderufer 3
10117 Berlin
Potsdam
Dortustraße 48
14467 Potsdam
France
Paris
71 rue Desnouettes
75015 Paris