Next in healthcare: digital care, what is it?
A new era of healthcare is here. Almost every aspect of modern life has been transformed by technology, and healthcare is no exception. New technologies are creating more opportunities for innovation, reshaping the health landscape to allow for greater access, greater uptake and greater outcomes of essential healthcare services. With significant potential for further transformation, digital technologies are vital to achieve many of the goals set in the NHS Long Term Plan.
The plan for digital health and social care published on 29 June 2022 sets out the government's vision for transforming health and care with digitally-enabled technology, aiming to give people access to quicker and more effective care and save the health and care systems time and money.
However, the NHS has a poor track record when it comes to adopting digital technologies at scale. The NHS is a complex network of hundreds of individual but linked organisations managing sensitive interactions. Digitally-enabled services provide an opportunity to reduce pressure on the individuals delivering care, offering them the time and resources to focus on communicating with and caring for their patients.
A brief history of digital technology in the NHS
The use of digital technology in the NHS has been a gradual process, beginning in the 1960s with the use of computers for administrative purposes. In the 1980s, the NHS started using computers for clinical purposes, including electronic patient records and computerised physician order entry. In the 1990s, the NHS began to implement telemedicine, allowing patients to access medical services remotely. Since then, digital technology has continued to evolve, leading to the introduction of mobile health, electronic health records, and other digitally-enabled healthcare services.
The use of digital technology in healthcare has had a positive impact on the NHS, improving patient outcomes and increasing efficiency. Telemedicine has been shown to reduce the need for in-person appointments, allowing healthcare professionals to see more patients and reducing wait times. Mobile health technology has also been shown to improve patient outcomes, particularly in the management of chronic conditions such as diabetes. Electronic health records have improved the accuracy and accessibility of patient information, making it easier for healthcare professionals to provide high-quality care.
But what is digital healthcare?
The term is so broad; it can cover wearable devices, telehealth, remote care, health apps, artificial intelligence, machine learning, the list goes on. It can be confusing to understand exactly what the term means, however at Oviva, we find all care falls within three key buckets:
Face-to-face pathways: an in-person consultation or group appointment where all parties are physically present.
Remote pathways: taking place using technology, reproducing the group dynamic via Microsoft Teams or Zoom video calls.
Digital pathways: an individual interfacing with a digital product delivering the intervention.
At Oviva, we operate a remote-first, hybrid approach to our programmes, combining the above with support from a healthcare professional. We offer personalised pathways based on the individual's preference and needs, with delivery via secure in-app messaging, telephone or video calls, supported by an experienced coach who speaks their chosen language. The role of the NHS-approved Oviva app is to augment the impact and efficiency of our specialist healthcare professionals, not to replace them.
What are the benefits of digital healthcare?
Digital technologies provide both patients and healthcare professionals with a greater insight and more control over health conditions through the tracking and monitoring of their behaviours, and their measurements such as weight and blood pressure.
These technologies can empower people to feel more in control of their own health, make more informed decisions about their health and provide new treatment options for prevention, earlier diagnosis and better management of long-term conditions beyond traditional services. At Oviva, we have gone one step further and blend our unique technology with human interaction from our team of experienced healthcare professionals to help people living with weight-related conditions to improve their health.
We encourage everyone to track their journey in the Oviva app, and educate them on the reasons why we're asking them to do so. Self-monitoring has been consistently found to be a key factor in someone's success when changing behaviours and losing weight.
We have found that combining digital tools such as the Oviva app with regular human support to deliver services helps to improve engagement, motivation, retention and completion of our behaviour change programmes. We empower our service users with the knowledge to understand how to read the data they are tracking and recognise trends in their activities to support long-term behaviour change.
The Oviva app allows the service user to record and track physiological parameters, including weight and HbA1c, their food intake either written or via photo, with the facility to link their profile directly to their wearable devices. The service user can set personal goals, such as step count or fluid intake, and track progress against these goals. The app then provides reminders and nudges via notifications on their smartphone helping to reinforce the behaviours required to achieve their goals.
This information is shared directly with their Oviva coach to provide personalised and tailored coaching based on their tracked habits, maximising the value of their interactions.
At Oviva, we use the power of technology to scale healthcare, meaning we can deliver higher outcomes for lower costs whilst enhancing care for the service user. By delivering care remotely and digitally, an Oviva coach can undertake 4000 to 5000 service user contacts per year. This contrasts with an average of 900 appointments per coach each year in a traditional, non-digital setting.
The digital divide: does it work for everyone?
A challenge often raised when discussing the adoption of new technologies is that of digital exclusion. Although the internet affects all facets of modern life, certain groups within our society, including older people and those living with disabilities, either don't have the skills, access or the support to utilise digital technology.
Older people have consistently made up the largest proportion of internet non-users (ONS, 2019). This means that digitally-enabled services run the risk of widening health inequalities for the groups of people who are less likely to be able to take part in them, despite them having great health needs to participate.
Average female life expectancy is 83 years, but only 63 years will be spent in good health.
Women in the most affluent areas spend 15 years in poor health, those in the most deprived spend 27 years in poor health (one third of life).
Men in the most affluent areas of the country live nearly 10 years longer than those in the more deprived on average.
In the first and second Covid-19 waves, mortality was highest among Black groups and Pakistani and Bangladeshi groups respectively.
Source: Kings Fund
How can we avoid digital exclusion?
Digital healthcare can actually help to remove some of the traditional barriers to accessing essential services.
Oviva's hybrid approach eliminates many of the practical obstacles to accessing healthcare services and therefore we achieve better uptake and engagement with the groups who are often significantly under-represented in traditional in-person or face-to-face care.
We are mindful of digital exclusion; where patients express a preference or do not have a smartphone, we can deliver their coaching through telephone or video appointments. These can be offered at flexible times, including evenings and weekends to accommodate working patterns and childcare. With telephone coaching and app coaching we can match patients with language needs with a healthcare professional that speaks their first language and also understands the cultural barriers to behaviour change.
The Oviva app facilitates asynchronous communication between the patient and their health professional (similar to communication apps like 'Whatsapp'), eliminating the need for appointment times, travel, parking, childcare, or time off work for many participants.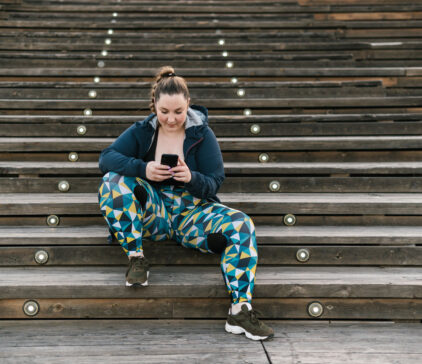 For someone who works and hasn't got the time to do these things, it was very useful not having to go to any appointments.
Florence, 27, Oviva Diabetes Support
We have found in our numerous programmes across the country that participants actively choose a digital route. Our published Tier 3 Weight Management dataset in Wakefield showed that a significant majority of participants (approximately 70%), chose to communicate with their healthcare professional via the Oviva app rather than by telephone or in person.
On a national level, data from programmes such as the NHSE-commissioned National Diabetes Prevention Programme have evidenced that a digital model, utilising a combination of specialist healthcare professionals with technology, results in significantly improved retention, completion rates and greater weight loss outcomes when compared to traditional in-person services.
It's not just Oviva who has harnessed the power of technology to support people at home. Healthy.io recently revealed they have supported 100,000 people using their app to test for kidney disease at home, with 74% of people using the Minuteful Kidney test aged over 50 and some over 100.
This debunks the perception that digital technologies are only adopted by the under 50s, unleashing a world where people of all ages are prepared to use digital tools to manage their health at home if given the opportunity.
What is the potential for further integration of digital technology in the NHS?
The future of digital healthcare in the NHS looks bright, with the potential for further integration of digital technology in healthcare services. Artificial intelligence, machine learning, and big data analytics are among the emerging technologies that could revolutionise healthcare in the NHS, improving patient outcomes and increasing efficiency.
Increasing numbers of people are living with long-term conditions and this will continue to rise over the coming years. Successfully managing long-term conditions such as Type 2 diabetes requires a more personalised approach with patients given far more ownership and control over their health, becoming an equal partner in any decision making.
This contrasts with traditional, doctor-centric, clinic based models which are no longer fit for purpose. We have seen that remote-first hybrid models, with regular support from experienced coaches, can deliver evidence-based, person-centred programmes that enable people to better self-manage their health.
However, we recognise that this form of care may not be suitable for some people and it is essential that patients are given an informed choice of how they access appropriate support.
What's next?
It's time to challenge the perceptions of digital healthcare. We must acknowledge its potential to achieve greater clinical outcomes and uptake, and its ability to reduce health inequalities in access to essential healthcare services. The choice of digital care should be offered upfront to everyone living with a long-term condition, regardless of age or background. Digital care can be a powerful tool in supporting the large number of people excluded from face-to-face services.
The future of healthcare is a mixed, hybrid model, ensuring that everyone has access to the right care for their needs, at the time they need it.
Read the report
In 2022 we asked NHS professionals for their experiences and thoughts of digitally-enabled healthcare, completed by commissioners, GPs, clinical leads and dietitians among others. Read our findings report here.