Meet Paul
Since joining Oviva, Paul has made positive changes to his health and wellbeing, taking huge steps towards putting his Type 2 diabetes into remission.
My eating and drinking wasn't necessarily excessive but I was just eating all the wrong things at the wrong times. I was heavier and bigger than I wanted to be. I wasn't exercising much anymore, despite being very fit and active in my 20s and 30s. I'd feel very tired when I came home in the evening and would also feel a lot of joint pain throughout the whole day.
I had been going regularly to have my 6 monthly diabetes reviews with my diabetes nurse, and all my results (my HbA1c, my daily sugar readings, my weight, my cholesterol) were very much going in the wrong direction.
When the diabetes nurse told me about the Oviva programme, I had to give it serious consideration. However I thought back to a line from Ricky Gervais's comedy "Derek" where a character, Kev, sums up his achievements in life with the words, "I'm not a failure because I didn't succeed. I'm a failure because I didn't try!" So hence I decided to stop the decline in my health.
I was going to start the programme in November, but after a helpful, long phone conversation with Oviva, where we discussed the many obstacles that December brings with Christmas parties and family gatherings, I decided I would be more focused starting in January and completing it as a New Year's resolution. A new start, a new me!
Life on the programme
The different stages of the programme all offered me different challenges. The 3 month total diet replacement (TDR) phase is clearly the hardest. To give up all eating, and the occasional beer and cider, would be very hard for anyone and this I didn't find easy. It didn't help that there are 6 flavours of shakes available from the supplier but only one soup – vegetable!
I was having one of the food bars for breakfast, a shake for lunch and a soup for dinner. I thought it would be impossible to stick to this routine when I first tried the vegetable soup, it was very bland. I wondered how anyone could drink this product for 84 days straight! I love battered sausage and chips but I don't think I could eat it more than three nights in a row.
But eventually I fell into the routine and it became easier.
For me the single biggest motivator is seeing your weight drop off, it makes you feel like it's all worthwhile fitting into clothes that were previously too small and hardly worn.
It actually was very easy to fit the programme into my daily routine during the TDR phase as my work schedule gives me a very structured set of breaks. So I'd have a chocolate bar with my cuppa tea at 9am, a shake at 1pm and a soup at 6:30pm. I actually hate spending time in the kitchen so being able to simply boil a kettle and relax in the lounge with no meal prep was both easy and a blessing!
There were advantages to our social life too, it meant my wife had a free designated driver for 12 weeks.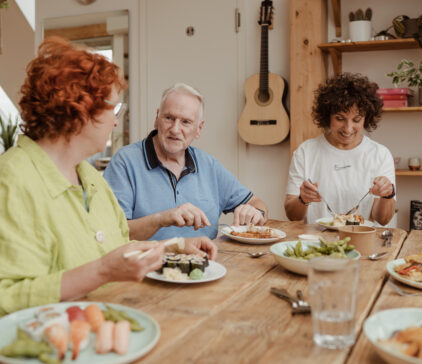 My wife was amazing throughout, she even started eating in the other room to keep me away from the sight and smell of her food. My friends were a massive help too, they were so supportive and kind with their words of encouragement and feedback as to how good I looked with the weight loss. They never once tried to get me to falter with "one night off won't hurt you", they watched over me like hawks to make sure I didn't succumb to temptation.
I had many big social events to attend through the 12 weeks and so I highlighted one at the end of 4 weeks and one at the end of 8 weeks where I allowed myself a day off as a reward and that helped massively knowing I could focus on one date that wasn't 12 weeks away. I know that isn't in the rules, but that said I can honestly say not one single item of other food or drink was consumed on the other days. I was very proud of myself.
Reintroducing food
So the 12 weeks went by and eventually I started eating again. The meal plans supplied on the Oviva app were very helpful and I stuck to those. I've done more cooking in the past 9 months than I've done in my life – the truth is I really hate cooking and that still hasn't changed. The programme has taught me about what to eat and most importantly portion control.
The support from Oviva was amazing. Everyone I spoke to on the phone was so friendly and helpful. The coach's communication throughout the programme was always very motivating, supportive, and informative.
Although I finished the programme 3 months ago I am still using the Oviva app and a calorie counter app religiously everyday, it will be part of my daily routine for the rest of my life.
I have to say the Oviva app far exceeded my expectations. It is so easy to use and allows you to record so much information, it certainly makes it easy for you to track your progress and help make amendments to what you are doing. The learning modules are fantastic as they are easy to follow. They are released at different times through the 12 months so you don't become overrun with reading and they cover so many topics – you really do learn a lot.
Looking ahead
Physically I am in my best shape for 15 years. During the TDR phase I lost nearly 20kg, about 20% of my body weight. Since eating again I have put some weight back on but it is still less than before and I can still fit into all my old clothes and the new smaller ones I bought at the end of TDR nearly a year on. I dropped from a size 38 inch waist to a 34!
When I started the programme I was taking 4 metformin tablets a day and now I am only taking one with no major changes to my daily readings or my 6 monthly HbA1c, which is great. I'm now working with my diabetes nurse to trial 3 months on no medication then have a blood test to see what effect this has on my HbA1c results.
This is a massive step towards putting my diabetes in remission.
Mentally I feel great knowing I have lost weight and massively reversed the trend of my results.
I know I worked very hard and had so much support from family, friends and the Oviva team but it has all been so worthwhile.
I'm less tired and have less joint pain, although I'm now having to wear reading glasses which is just an ageing thing!
If you're ready to live a healthier and happier life, discover our programmes.