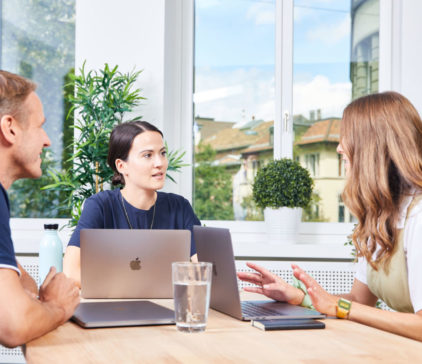 Who we are
Our Marketing team covers all specialisms, from Communication and Brand, Performance and Growth Marketing, to CRM Marketing. Our team members based in Switzerland, France, Germany and the United Kingdom bring together a wide range of experience from start-ups, large companies and operational dietary advice, providing perfectly balanced expertise.
How we work
Both your creative and analytical skills will be in high demand in our team. We understand that marketing materials must be visually appealing, while also answering the questions of our target market. Depending on your role, you will interact with multiple stakeholders across the entire organisation and work closely alongside them. Stakeholders range from product team members, dietitians, all the way to the CEO. Day to day, we work with tools such as Google Analytics, Facebook Business Manager, Miro, Adobe and Canva.
What is important to us
We're a fast-growing team based in multiple locations, so we foster an enjoyable working environment, where everyone feels at home. We support each other and try to find the best possible solutions for our stakeholders. We do this by listening to their needs attentively, making expert recommendations and thinking critically. We continuously expand our expertise, stay up to date with the latest trends and share knowledge within the team.
You could be a part of this
If you join our team, you will take ownership of projects from the very beginning and drive them forward – regardless of how much experience you have or how old you are. When we work together, we trust one another. We find that responsibility helps people to progress. So when you finish a project, you can be proud of the result and you will also have gained a great deal of new knowledge.
What our employees say about Oviva

"It makes me proud to tackle our society's problems together and to hopefully make the world a happier and healthier place."

"I enjoy all the daily challenges at Oviva, which mean I never get bored."

"Our main priority is our patients' wellbeing. It increases motivation for daily tasks."

"Our close collaboration with GP's in clinics increases the effectiveness of psychotherapy."

"Working towards a common goal, with every team member making a visible contribution to the final result, is a unique experience. I can immediately see how I influenced a product."

"Oviva challenges and encourages me. I especially like the fact that I can decide when and where I work."